The Flag Below is the Current Hazard Level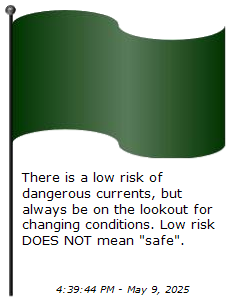 Oak Island Water Rescue has a flagpole in front of our station on SE 49th Street that flies flags to indicate the current and/or forecast beach and water conditions. We also have a "webcam" that allows you check the flags anytime you wish and display the Current Hazard on every page of our website. We recommend checking the flags each day you plan to swim in the ocean. The flags use standardized colors to indicate conditions, and we have a sign on the skate park fence that describes the color system used.
GREEN flags are used to indicate no known significant risk, a low probability of rip and longshore currents, calm-ish surf conditions, and no known reports of dangerous marine life. Just because these dangers are not anticipated or expected does not mean they do not exist. There is always the possibility of strong ocean currents and dangerous marine life and you should always be prepared for conditions to change.
YELLOW flags are used to indicate a moderate risk of rip and longshore currents and dangerous surf conditions. It may be safe to venture into the water, but you should limit the depth to water not above your knees and be on the lookout for rip currents and others in danger who may need to be rescued.
RED flags are used to indicate a high risk of rip and longshore currents and dangerous surf conditions. These are good days to enjoy the sandy beaches, but you should absolutely stay out of the water. There is no "safe" water depth on "red flag" days.
RED over RED (2 Red Flags) indicate the beach and water is closed and off limits to all people except first responders and other officials. This can happen following a hurricane or other significant storm, shark attack, or any other event where the town government makes the decision to close the beach.
PURPLE flags indicate the presence of dangerous marine life. Everyone immediately thinks SHARK!, but the truth of the matter is sharks are seldom a problem on Oak Island. They certainly can be, but in many cases a purple flag indicates the presence of large numbers of jellyfish, Portuguese man o' war, stringray, sea snake, and other biting fish or stinging creatures. This marine life is nearly always present in small numbers around Oak Island, but the purple flag indicates known increased activity or reported encounters with them.
A single RED pennant indicates a Small Craft Advisory is in effect for the area. A Small Craft Advisory is a type of wind warning issued by the National Weather Service when winds have reached, or are expected to reach within 12 hours, a speed marginally less than gale force. A Small Craft Advisory may also be issued when sea ice exists that could be hazardous to small boats.
Double RED pennants indicate a Gale Warning is in effect for the area. Gale Warnings are issued for locations along the water when one or both of the following conditions is expected to begin within 36 hours and is not directly associated with a tropical cyclone: sustained winds of 34 to 47 knots (39 to 55 mph) or frequent gusts (duration of two or more hours) between 34 knots and 47 knots. Make sure your vessel is secure in port.
2 RED flags with BLACK centers indicate a hurricane warning. Oak Island Water Rescue DOES NOT fly these flags because we don't want to lose our flagpole! But you may see these flags flown around town or on bridges when a hurricane warning is in effect. Not only should you be nowhere near the ocean during a hurricane, or the approach or aftermath of one, you should be nowhere near Oak Island! These flags serve as a warning that the entire area is dangerous and you should relocate yourself and family to a safer location.
Current Weather
September 29, 2022, 4:20 pm